Romantic Guide to New Orleans
Given how often the bright walls and picture-perfect shotgun homes of New Orleans appear on our Instagram feed and here on this blog, we're constantly getting asked for a list of our favorite things to do in the city from locals and tourists alike. It's taken us two years (whoops!), but it's here. To be real, it took us so long because there is so much to do in this city that the idea of compiling a list of all of the options sounded pretty much impossible. In fact, we couldn't even begin to create a list until deciding on one singular topic to base all of our recommendations around. So, in the list below, we've narrowed down our top places to go in New Orleans when you're feeling romantic.
Romance is about as #nola as po-boys and the practice of saying 'hi' to literally every person you encounter on the street, so it seemed fitting to make an entire guide centered around it. With centuries-old European architecture, the soft sounds of live music from street musicians, fog rolling off of the Mississippi River, a relaxed attitude of those who call the city home, and an open and warm welcome to LGBTQ folks and people of all backgrounds, it's seriously one of the most beautifully romantic spots you'll find in the U.S. - and the perfect back drop to all of the places and activities we've listed below. Honestly, most of the items on this list would be great to do with any loved one or best friend, so take a look, mark your calendar and come experience all of this beauty for yourself!
This spot in the Lower Decatur area of the French Quarter hearkens back to a time when cocktails were just starting to become a thing and when New Orleans was one of the busiest port cities in the New World. Cane & Table hasn't been around as long as some New Orleans classics, but it feels like it jumped right out of the 18th century with a whole slew of "proto-tiki" cocktails and a food menu inspired by the ingredients and flavors of Europe, West Africa, and the American South. From the delicious food and drink offerings to the gorgeous, nearly crumbling style of décor, a visit here is like going to a weird time-ignorant fantasy mashup of pre-revolution Havana, Casablanca as depicted in the movie, and, well, New Orleans. It's really tough to name a favorite restaurant or bar in this town, but Cane & Table always makes our list of top choices, so we're ✨thrilled✨ to name it our top dining pick for our romantic guide to New Orleans!
N7 started out as a neighborhood secret. With virtually no online presence and hardly even a sign (there's just a small "N7" spray painted in red on an otherwise unremarkable wooden fence) this tire-shop-turned-bistro got popular largely just by word of mouth. While the feeling there is still that of a tranquil little French patio cafe with warm string lights and cozy outdoor seating, it's definitely become a beloved part of the restaurant scene in the Bywater area. For good reason, too! Check it out for a date night and try a bottle of wine with a few of their tinned seafood options--yes, tinned seafood, which is apparently a favorite little European snack and it's exactly what it sounds like. You'll dine under string lights while listening to relaxing music - and the casual approach to service helps create a pretty incredible and romantic evening.
BAYONA 👏 IS 👏 FABULOUS. Susan Spicer's flagship restaurant is elegant and kind of otherworldly, not to mention all-over-the-world-ly. Pretty sure we just made that word up, but what we mean by it is that Chef Spicer draws inspiration from pretty much everywhere on Earth to create a menu that feels both classic and cutting-edge at the same time. The dining room is sophisticated but comfortable, and the courtyard is tranquil as heck.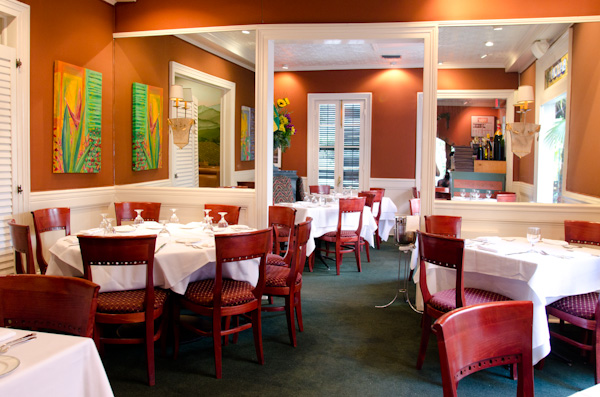 One of a few new boutique hotels to hit the city, the Catahoula is a gorgeous and quaint spot in the Central Business District and just a short walk or ride from either the French Quarter or the Lower Garden District, making it a relaxing spot to recharge, warmly tucked away in the center of one of the most happening parts of town. With a rooftop bar and patio covered with succulents (our favorite living things), an enclosed courtyard sitting area, and cute as heck rooms and furnishings, this hotel is pretty much the best thing we've ever experienced. The Catahoula is definitely our top pick for places to stay in town. Check out photos of the Master Suite below - it's so cute!
Throwing it back to old school New Orleans style, the Hotel Monteleone is a slice of the city's history. It's comfortable, beautiful, and located right in the French Quarter, the undisputed focal point of New Orleans. Whether you stay here or not, you've absolutely got to pop in to visit the Carousel Bar, something of an unofficial city landmark where your seat at the bar literally revolves around the booze and bartenders in the middle. The whole spinning bar situation maybe means you should take it easy on the number of sazeracs you plan to drink, but we think it's: Too. Dang. Cute!
If you're not looking to stay downtown during your visit to New Orleans, the Henry Howard Hotel is a great option in the Garden District. This interior of this spot highlights its old-fashioned architecture, but doesn't shy away from throwing splashes of modern decor throughout. Each room is a bit different, but several of the rooms feature walk-through windows with balconies, great for having a morning cup of coffee and taking a moment to appreciate all the gorgeous trees and homes of the neighborhood. Oh, omg, and did we mention they leave delicious complimentary cookies in your room for you? Because they do, and it's kind of amazing.
Sylvain is the rock-n-roller of the typical "New American" gastropub. They've got an incredibly hearty and delicious Southern-inspired food menu and they have curated a seriously insane cocktail program, which we've researched ✨thoroughly✨ (a.k.a. we've had a TON of drinks here over the years). Inside, the vibe is loud, dark, and sexy; outside, there's a beautiful courtyard garden for those who prefer a calmer, quieter time. It's honestly hard to say if Sylvain is more of a bar or a restaurant, but whatever it is, it's dang good, and it's effortlessly casual about it all.
These days no drinking tour of New Orleans is complete without a visit to Bacchanal, and while it's honestly been recommended more times than they or we or you can probably count, they totally deserve it. Bacchanal started out as basically a wine shop with a modest outside hangout area, and it's grown into a bit more than that: they offer (incredible) food, there's a full bar upstairs, and live music seven nights a week (that means EVERY night). All those things are great, plus it's still held onto that chill backyard party vibe it's always had. The staff is really helpful when you're trying to figure out what to drink, but if you're not too choosy, we recommend just spinning around three times, pointing to a bottle, and going with it because more than anything, coming here is about enjoying the company, listening to some great live music, and enjoying a nice New Orleans evening.
We're neighborhood homebodies, so it takes a bit to get us away from our little Marigny/Bywater hub, but Delachaise is one of a few places that we'll specifically head uptown for. It's an oddly-shaped building with a great patio, comfortable banquette seating inside, and a pretty awesome view of the St. Charles streetcar line. Warm lighting makes this an awesome place for some pre- or post-dinner drinks (or just anytime drinks, no judgement here). If you're hungry for a snack, get some goose fat fries (obviously) or, if you're feeling a little adventurous, try what we're pretty sure are the best fried frog legs we've ever had.
Bike to City Park
New Orleans's relatively flat landscape gives it a pretty major pro: it's incredibly easy to bike around. With a whole lot of historic architecture, biking can be a great way to see the whole city while simultaneously burning off all the calories you'll def be eating if you're paying attention to this whole list of suggestions. One of our favorite bike routes is to pedal through the French Quarter and up Esplanade Avenue to City Park, where you can find the New Orleans Museum of Art, the Besthoff Sculpture Garden, and Carousel Gardens Amusement Park, where you can ride an antique wooden carousel that's been operating for over 100 years which is, like, crazy.
Foot Tour of the Art Scene
Appreciating art is a super fun way to get to know your partner or close family and friends (or the guy you matched with on Tinder) a little bit better. Lucky for all of us, there's always new stuff to see in the New Orleans art scene - where you can find everything from the dark and introspective work of David Harouni to the straight-up no-frills messages that Dr. Bob paints and adorns with bottle caps. There are a few little hubs of galleries spread around the city for you to take your time wandering through. Royal Street is a great central option in the French Quarter where you can find our favorites, the aforementioned Harouni Gallery and Antieau Gallery by Chris Roberts-Antieau. You'll also be positioned just a few steps away from the street artists (such as local typewriter poet, Cubs the Poet) around Jackson Square.
Julia Street is also downtown, but in the Warehouse District, and there's another little cluster of great galleries in the area, plus some notable larger operations like the Ogden Museum of Southern Art and the Contemporary Arts Center New Orleans. Magazine Street is a sprawling stretch of road, but there are galleries dotting it up and down. We'd recommend grabbing an afternoon cocktail to go from Bouligny Tavern and get to walking. Finally, St. Claude Avenue is another spread out art hub, but it's good to know that every Second Saturday of the month all the galleries stay open well into the night to debut new shows and serve drinks for guests to enjoy. There's also no lack of great street art, traveling collections, and temporary installations. Whether your stationed Uptown or deep in the Bywater, take your time to just wander around one of the streets mentioned above and appreciate the diverse local art New Orleans has to offer.
Picnic on the River
Step one: head to the French Market, Central Grocery, Verti Marte, or Johnny's Po-Boys and grab some lunch to-go. Step two: if you're looking for a bit of a populated area, head to the Moon Walk and have a little picnic right within earshot of the calliope being played while the Steamboat Natchez is docked OR step two: if you're looking for something a little quieter and less busy, make the short walk to the Elysian Fields entrance to Crescent Park and picnic where you can catch an even fuller view of the downtown skyline.
Our friends over at St. Claude Social Club in the Lower Garden District are three badass women, each with different specialties and styles that came together to create an awesome little boutique that's so comfy and so chock full of unique clothes, jewelry, and tchotchkes that you'll want to sit and stay a while. Don't be shy about hanging out, either! They're usually pretty thrilled to grab you a drink from their little bar cart for you to sip while you browse, making it a great landing spot for a cozy and friendly hangout after a long day of shopping (yes, you can reward yourself with a cocktail after a successful shopping spree).
This spacious and bright little boutique carries a whole bunch of local and independent brands from soaps to candles to clothing, books, and ceramics. Hattie, the shop's owner has a killer eye for quality and stylish products and obviously cares a great deal about supporting local and semi-local business, which makes us giddy with excitement just to see all the work of talented makers and artists in our area all in one place! Hattie Sparks is also perfectly situated in South Market District, a pretty brand new little neighborhood with plenty of other great shopping options as well.
We don't really think of ourselves as very talented or original when it comes to fashion, so we generally just rely on mannequins and merchandisers to be creative for us. The problem we *used* to face was that other than ultra-corporate chain stores, thrift stores, and formal wear stores, there wasn't much in New Orleans in the way of mens' wear that truly loved us for us. Well, now there's at least one spot that does, and it's called Friend, and things are going pretty well so far and might get serious very soon. It makes the perfect his & his shopping date before a dinner or night out in the city. Check it out!
Thanks so much to all of the above sponsors of this guide! All opinions are our own.
To keep up with us and our adventures around New Orleans, follow us on Instagram!